Multi-Concept Premium Blog WordPress Theme
Introduction
Thank you for purchasing our theme!
We are confident that you'll love the Writee's vast feature options and clean design.
Please read carefully this Documentation file for any questions or issues you may be experiencing
Interested in keeping up to date with Scissorthemes's future projects and releases? Follow us on Twitter and Facebook.
Thanks so much!
Fonts on our Demo
1/ Main demo:
Font for heading title: Poppins, Medium 500, 30px
Font for body text: Raleway, Normal 400, 13px, Line height:1.5
2/ Lifestyle:
Font for heading title: Maven Pro, Medium 500, 25px
Font for body text: Maven Pro, Normal 400, 14px, Line height:1.5
3/ Food:
Font for heading title: Poppins, Medium 500, 25px
Font for body text: Raleway, Semi-bold 600, 13px, Line height:1.5
4/ Decor:
Font for heading title: Poppins, Blod 700, 36px, Letter Spacing -1px
Font for body text: Poppins, Normal 400, 14px, Line height:1.5
5/ Travel:
Font for heading title: Raleway, Normal 400, 24px
Font for body text: Lora, Normal 400, 14px, Line height:1.5
6/ Fashion:
Font for heading title: Lora, Normal 400, 24px
Font for body text: Raleway , Normal 400 , 14px , Line height : 1.5
7/ Barber:
Font for heading title: Oswald, Normal 400, 35px
Font for body text: Lato , Normal 400, 13px, line height 1.5
8/ Wedding:
Font for heading title: Amatica SC, Normal 400, 36px
Font for body text: Raleway , Normal 400 , 14px , Line height : 1.5
Installing WordPress
WordPress is easy to install. Many hosting services provide one click WordPress installation.
5 min WordPress installation Guide
Once you have installed WordPress please follow the steps mentioned below:
THEME INSTALLATION
From where can I download the theme files and updates?
You can download the theme files form My Account >> Downlaods
THE THEME CAN BE UPLOADED IN TWO WAYS:
WordPress upload
FTP upload: Using your FTP program[e.g. Filezilla]
Theme install via WordPress:
Navigate to Appearance > Themes > Add > Upload. Go to browse, and select the zipped writeepro.zip file. Hit Install Now and the theme will be uploaded and installed.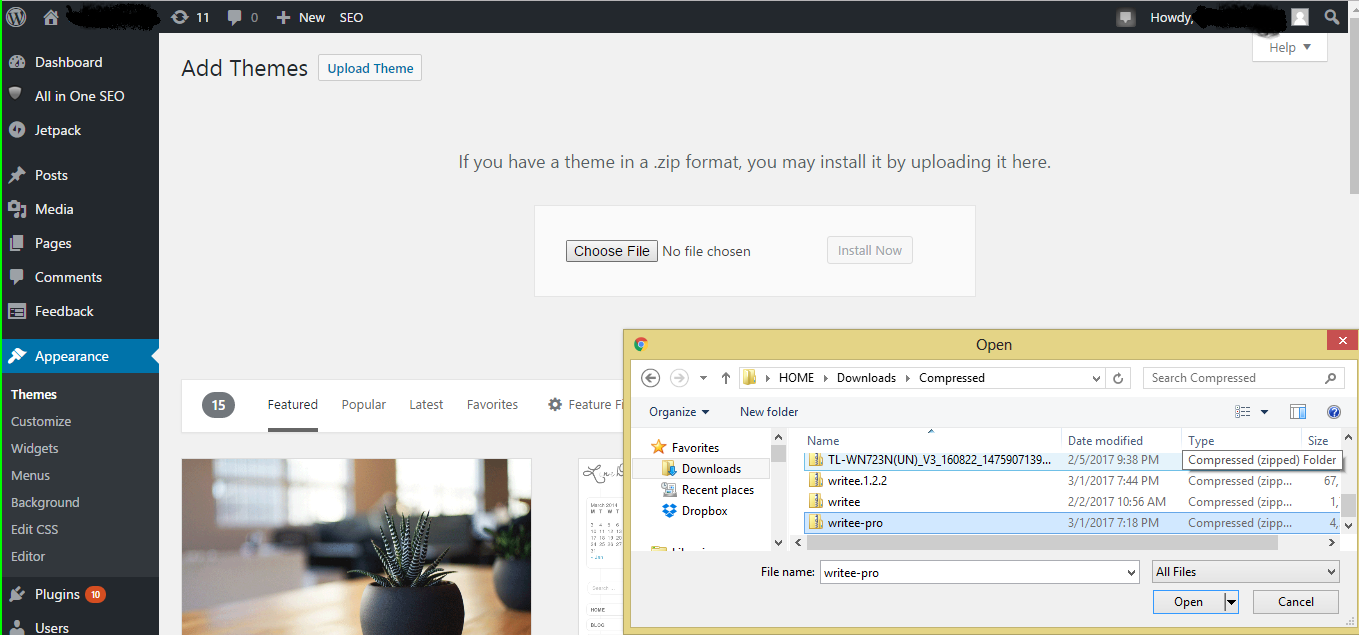 THEME INSTALL VIA FTP:
 Log into your hosting space via an FTP software.
 Unzip the writeepro.zip file and only use the extracted Writeepro theme folder.
Upload the extracted Writeepro theme folder into wp-content > themes in your WordPress installation.
Go to Appearance > Themes and activate the installed theme.
or you can check out:
WordPress theme installation guide
Saving Permalinks
After installing and activating this theme, navigate to Settings > Permalink settings. This is where you can change your permalink structure. After selecting the format you would like to use, click the save button.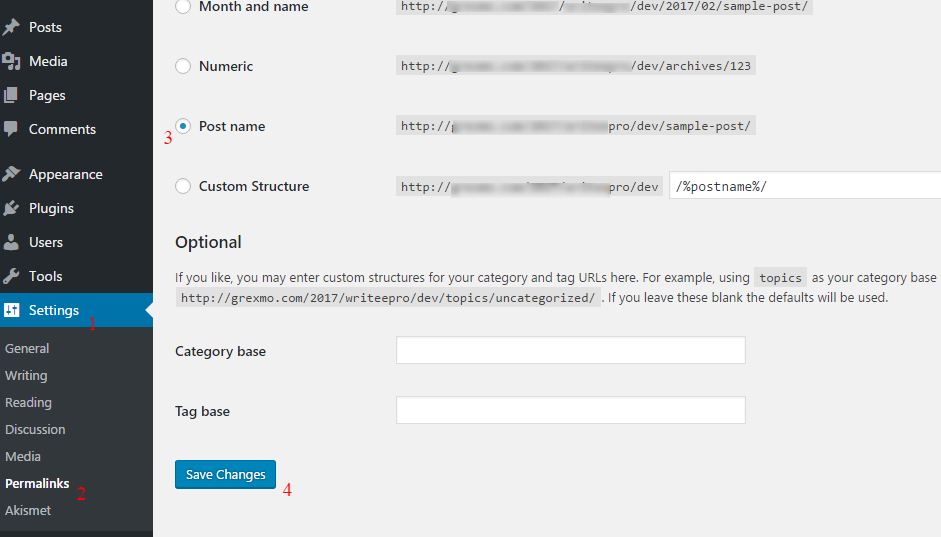 IMPORTING DEMO CONTENT
So you can import all theme demo content with one click (posts, pages, products, categories, menus, sample images, sliders, and plugins configurations).
Go to Appearance >> Import Demo Data
Just import your favorite theme Demo with one click on your website.
Once you get the Successful message You are ready to go!!
Please note that theme data does not have real images from our demo, all demo images are downloaded from Unspash.com . You need to change demo images to your own real images.
If you don't import dummy data you must create theme pages and menus manually.
PLugin Installation
Writee offers a single required and a few recommended plugin which can come handy.
Kindly activate the required plugin i.e. Kriki to gain full access to the Pro features

License Activation
Note: This step is not for the user who has purchased Writee Pro from Mojo Market Place or Creative Market. 
Writee Pro comes with a license code which is required* to activate the theme.
Where can I find the Licence key?
Go to >> My Account >> Orders >> Click "License Manage"

How to activate the theme?
Go to WordPress Dashboard >> Appearance >> Writee License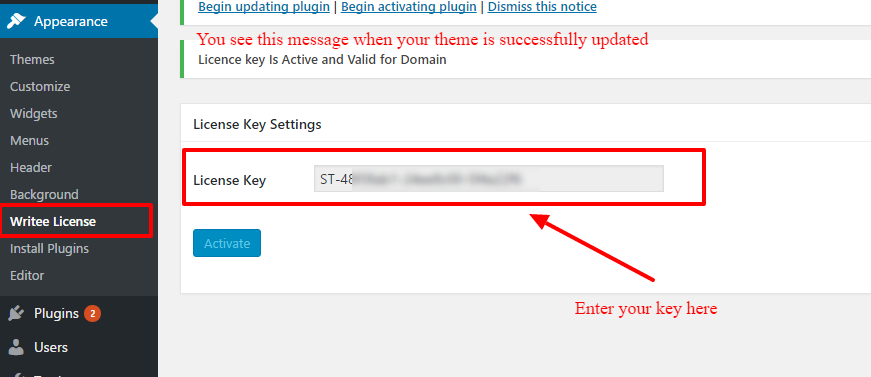 GETTING STARTED WITH WRITEE PRO
Creating a Post
To create a post, go to WordPress Dashboard > Posts > Add New.
Select your post type from the right sidebar Format Options. Based on POST selection you will get some extra options, using which you can add your desired data.
If desired content (quote, link, gallery, embedded media) for a particular post format does not appear in its content, the post will act as if it was standard.
Writee Pro Support different post formats:
Standard,
Gallery (Carousal)
Gallery (Justified)
Video (YouTube & Vimeo)
Video (Self-hosted)
Audio (Sound Cloud)
Audio (Self-hosted)
Quote
Link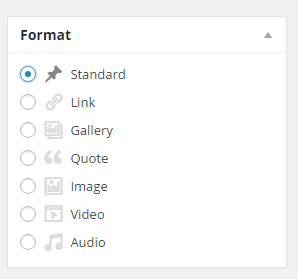 GENERAL SETTINGS:
Every Post has these General Settings :

Select Layout: With the help of this option you can select the post view style (i.e. left sidebar, right sidebar or no sidebar) for the current post. If no value is selected it will pick the global sidebar setting in Writee Options > Blog settings

Show Excerpt: You can Turn the excerpt off for the particular post
Standard Post
A standard post is the default post type. You can add text and images to your post using the Editor box.
WRITEE STANDARD POST STYLE (only work in standard Layout)
Post View Style: With this option, you can select how to display Featured Image (i.e. on the top, left or right side) in Standard Layout.
Link Post
A link to another site, just enter the URL you want to highlight in LINK POST SETTING option and select a Featured image for the URL.
Check out the Writee Pro demo for the Link post style:
Example of a Link post:
Gallery Post
There are two Gallery Styles for images.
Justified Gallery: Display the Group Image in an Adjustable grid format. Example of Justified Gallery: http://scissorthemes.com/demo/writee-pro/2015/10/24/editor-css-testing-posts/
Carousel Gallery: Display the images in carousel. Example of Carousel Gallery: http://scissorthemes.com/demo/writee-pro/2015/09/26/gallery-view/
Quote Post
Just select the QUOTE format and enter the Quote and Author Name
Video Post
Writee Pro offers following Video option for Video Post
Example of Self Hosted Video:http://scissorthemes.com/demo/writee-pro/2015/10/07/mountain-video-post-smaple/
Ex. Of Embedded Video :
Audio Post
Pro options for Audio post

Ex. Of Audio Post : 
Adding a featured image
A featured image represents your blog post, which is displayed on the blog at different places like Slider, Menu, and Widgets. So assigning a featured image to every blog post is very important.
Note: Once you are done with the post don't forget to choose a category for the post, add some tags to the post which will be helpful in search of the post.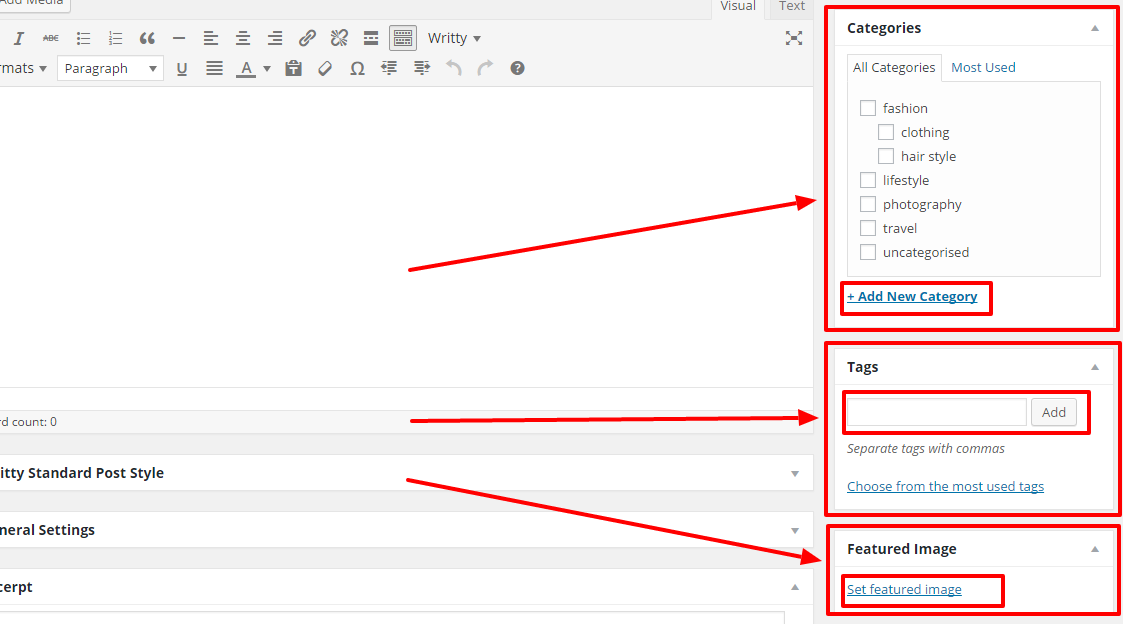 Creating a Page
To create a new page, navigate to WP Dashboard > Pages > Add New
Like a post, you can enter a page title, add content, and assign a featured image.
They are commonly used for about and contact pages.
You can choose page templates via the drop-down menu on the right titled "Template":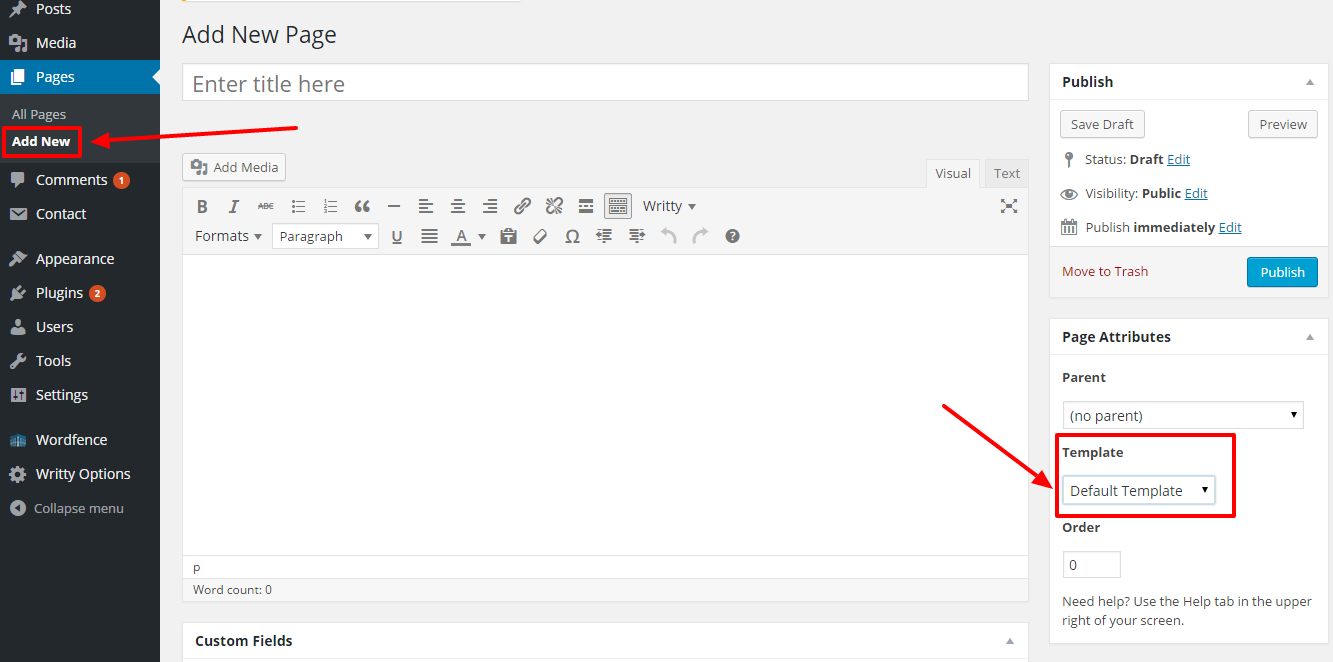 Template Writee Pro offers:
Author List (Using this template can show all the authors profile on a single page)
Page Fullwidth
Page with Left Sidebar
Page with Right Sidebar
Once you've published your new page, it will not automatically appear in your main menu.
CREATING A MENU
From the 'Appearance' menu on the left-hand side of the Dashboard, select the 'Menus' option to bring up the Menu Editor.
Select Create a new menu at the top of the page
Enter a name for your new menu in the Menu Name box
Click the Create Menu
We offer two types of menus which will display according to the header style selected.
We offer Different Header Styles. A Header which displays a single menu on it will always display the primary menu.
Check out How can I change my Header?
Setting up Mega Menu
Writee Pro Offers three Mega Menu options:
Sub Categories + Posts : Display Sub-categories of the selected category
Recent post + Check also : Display posts of the selected category
Mega Links : Display Menu links in columns view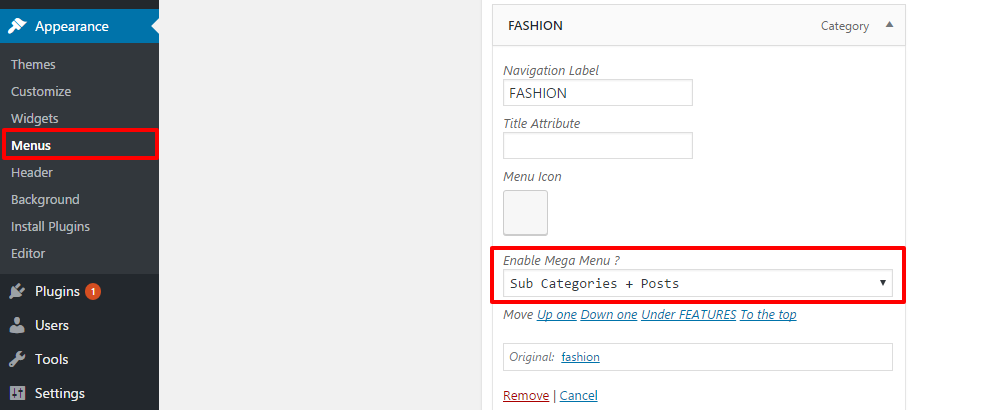 How to create a Category page and Menu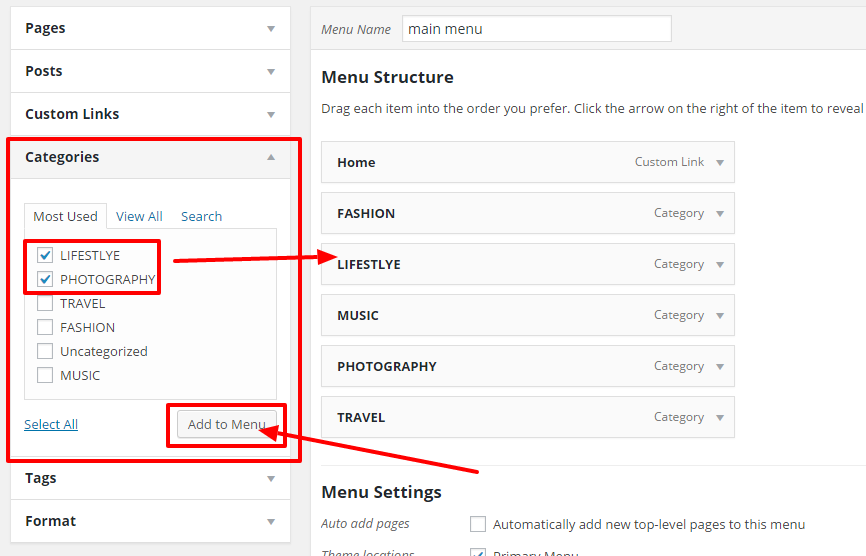 Category Pages are dynamically generated by WordPress
You can create a category form WordPress Dashboard >> Post >> Category
To add Category as menu page go to WordPress Dashboard >> Appearance >> Menu, check the categories you want to choose as a menu and click add to menu
Homepage settings
After Activating Writee Pro Go to >> Customize and activate Kirki to gain full access to all the Pro features.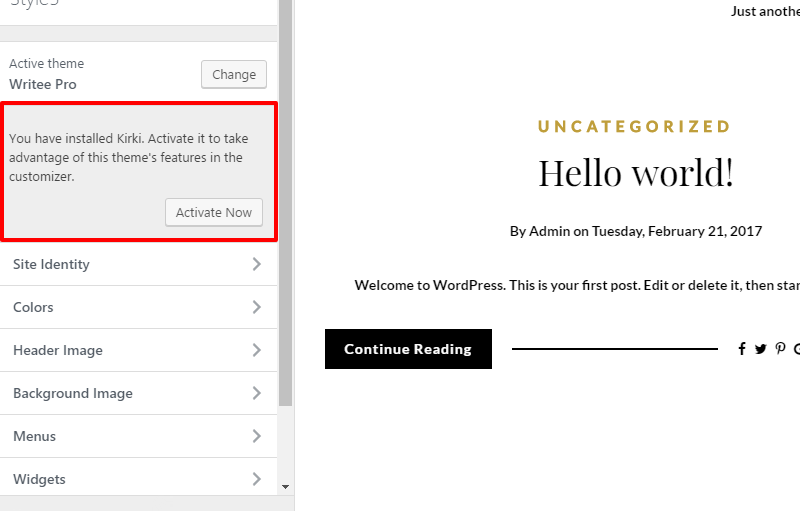 Your homepage can be set to display your latest posts or a custom static page. Latest Posts is default display mode. You can check if that is the chosen display in
WP Admin > Settings > Reading > Front page displays.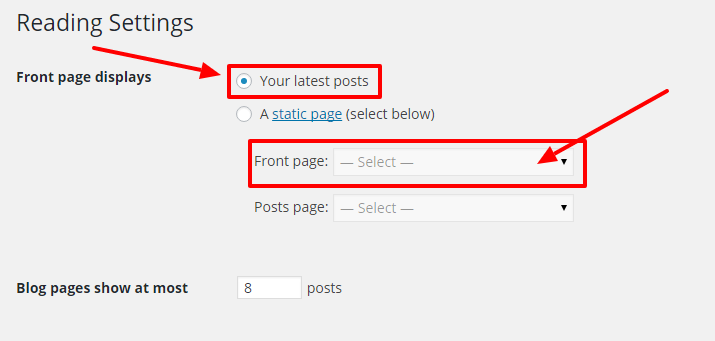 If you want to set a static page to be displayed as a homepage
Select the option A static page > chose the page from the drop down you want to select as the Homepage.
From the second drop down you can select the page on which you want to display all the posts.
BLOG PAGES SHOW AT MOST: You can adjust the number of posts you want to make visible on the Homepage
Don't forget to hit the save button.
Custom HomePage Setings
How can I create a Custom homepage like Demo?
Please select the page you want to set as Homepage
Set template for the Page as "landing page"
Enter Content which you want to display on the homepage in content area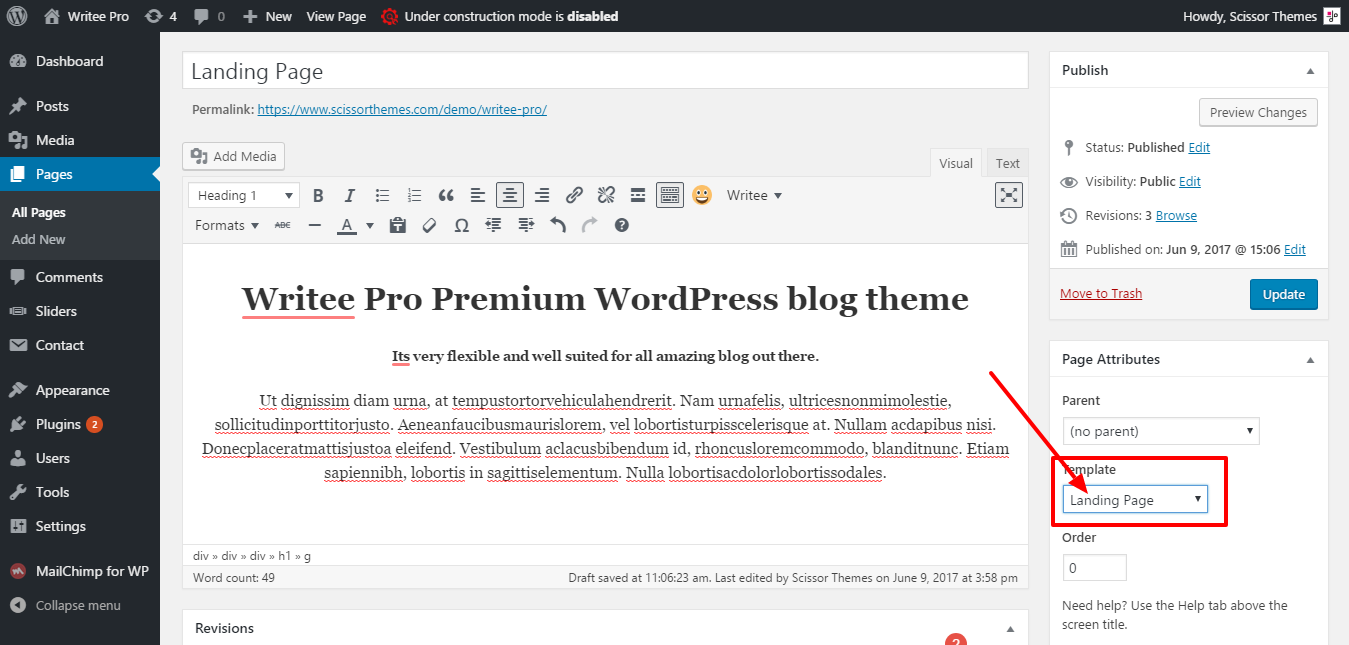 Save the page
Homepage include the Following Sections
Slider Area: You can go for a post slider or custom slider and select further slider settings form: Writee options >> Slider Settings.
Featured Widget Area: the default widget used is CTA BOX, we can change the display setting from Writee options >> homepage settings and select the number of widgets we want to display at a time.
Content Section: Content can be added to the page editor which is set as homepage
Posts Sections: All the setting for posts section can be found at: Writee options >> homepage settings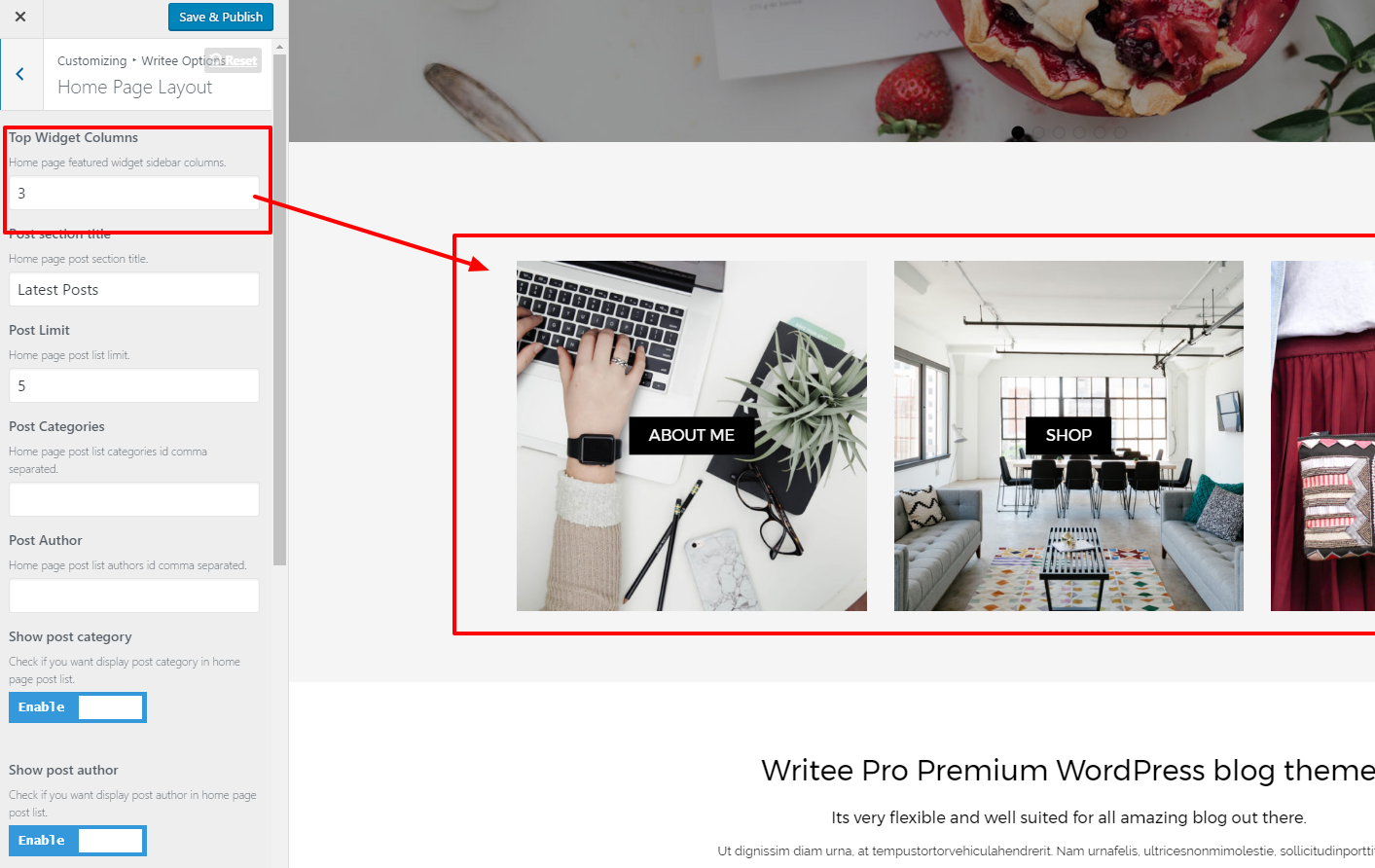 Blog Layout Options
To customize how your homepage looks at the same time, including its layout, colors, enabling/disabling the sidebar, you can also go to
  Go to >> Appearance >> Customize >> Writty Options >> Blog Page Layout
Here you can manage layout and sidebar settings for your homepage, Archive/categories page(tag page, archive page, author page are managed from the same layout option), and search page.
LOGO Options
You can upload your logo or set tittle and tag line from Appearance >> Customize >> site identity.
You can also adjust the Logo top and bottom height and size of the logo form Appearance >> Customize >> Writee options >> Logo Options
HEADER Settings
Writee offers 4 type of header and option to enable and disable different section of the header.
There are three section in Writee Header
Header Top Area
Header Middle Area
Header Bottom Area
Slider Settings
Using Writee Slider options you can create different types slider styles.
Writee offers Fixed and Full slider and you can also select the number of posts you want to show on a slider.
How can I Edit the slider image?
Writee is a blog theme and all the slider images are Blog post's featured images. You can add a featured image to your post, by using "FEATURED IMAGE" option which is on the right side of Post editor window.
We offer two slider types
1. Custom Slider
2. Post Slider
Setting for slider can be selected from:
Go to your WordPress
Dashboard  >>  Appearance  >> Customizer  >>  Writee Options  >>  Slider settings >> Slider type  >>  Custom Slider or Post Slider.
Post Slider: Displays latest blog post featured as slider image. One can show specific post and categories Posts by entering the post/category ID value in the slider settings.
Custom Slider: Once you have selected custom slider you can create slider form
WordPress Dashboard  >> sliders >> add new slide
Rest of the slider setting will work form the customizer area.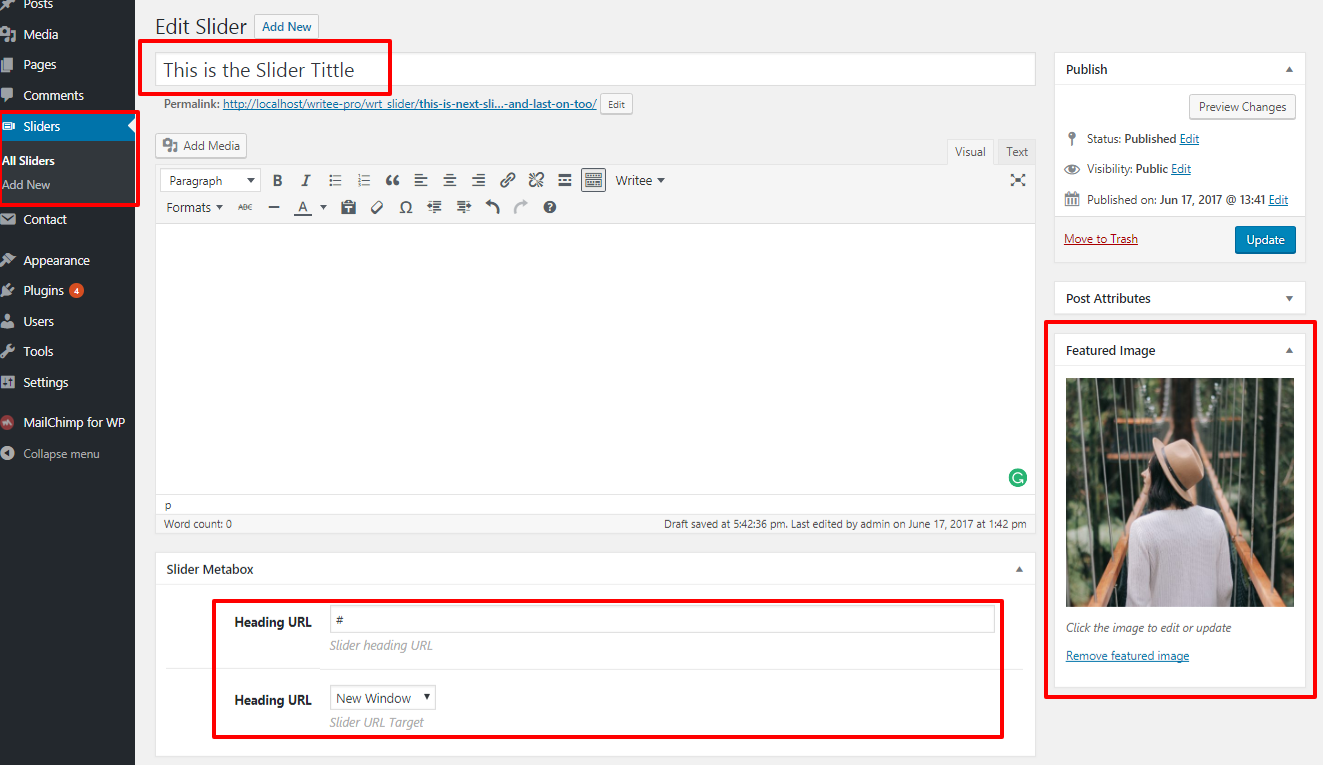 Footer Settings
Writee Pro has two footer area i.e. Footer top (widget section) and Footer Bottom section which you can easily enable or disable as per your blog style.
Social Media Icons
You can add social icons on the Header from Appearance >> Customize >> Writee Options >> Social Settings
Social button Style: This option allows you to choose a style for the Social icons i.e.
Default Color (Icons will have the black color by default)
Theme Color (The Primary Color selected by the user)
Icon Original Color (All the icons will have their default color)
Instagram
To config Instagram images on Footer of your site, you need to do the following steps:
Please go to Appearance >> Customize >> Writee options >> Instagram Settings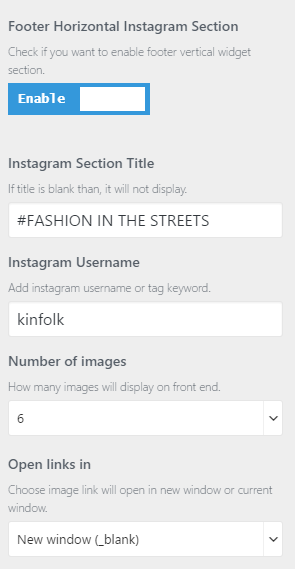 WIDGETS
Please go to Appearance > Widgets. You can drag & drop widgets on the left side to the sidebars on the right side for your purpose.
Soledad comes with 8 different custom widgets.
Shortcodes/Formats
Plugins
Credits